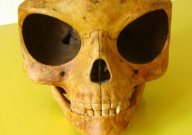 Quote:
Carbon 14 dating at the Niels Bohr Institute in Copenhagen has shown that the creature lived between 1200 and 1280 AD. Furthermore, the skull was found above the old pipes, whose age suggests that it wasn't buried until after 1900. Also the absence of other skeleton parts of the creature, together with the skull's state of preservation, has led the scientists to suspect that it has not been buried for long, probably only a couple of decades.

Perhaps to conceal the secret behind its existence someone stored it for ages and later deliberately buried it. It is interesting to note that residents in Olstykke and nearby villages have from former times told about a local member of l'Ordre Lux Pégasos (the Order of Pegasus' Light), whom accordingly on behalf of the order protected various items – among them a mysterious cranium and several devices made of extraordinary light, albeit unbreakable metal or ceramics. The skull is said to have originated from the Balkans, but it has also been stored in Paris, France, and in Munich, Germany, before arriving in Denmark.

If the story holds true, it is possible that further research may lead to the whereabouts of alien artefacts. It is plausible that l'Ordre Lux Pégasos still keeps objects as well as insights into their origin and purpose. Little is known about the order however, except that it was established around 1350 and throughout its existence has counted influential poets and authors among its members. Among the prominent initiated were Giovanni Boccaccio, William Shakespeare, Réne Descartes, Thomas Jefferson, Edward Bulwer-Lytton, Ambrose Bierce, Karin Boye, H.G. Wells, Julio Cortázar, Joseph Heller, Octavia Butler, Aleksandr Solsjenitsyn and Ahmed al-Baghdadi. One can wonder why the task of preserving alien artefacts and knowledge fell upon an order solely consisting of writers, but the very name of the order does hint at one or more guests from the Pegasus constellation, who for some time lived among us and brought us vast knowledges and inspiration. The secrecy of the order however suggests that humanity is not yet ready to share the Pegasian knowledge.
http://www.unexplained-mysteries.com/co ... ?id=189988
_________________
"Eternal vigilance is required and there have to be people who step up to the plate, who believe in liberty, and who are willing to fight for it."
-
Milton Friedman
Slackvision wrote:
Isis does our bidding.
Slackvision wrote:
AlQ was built by "us" and they work for "us".
Slackvision wrote:
You're going to hell with fire and brimstone if you don't get on board with the plan.